ABOUT US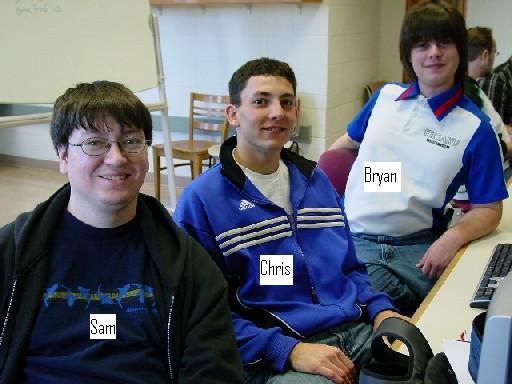 Chris Bostedt
I grew up in Allouez, a suburb of Green Bay and am currently a junior at St. Norbert College. I am majoring in Computer Science and minoring in Graphic Design and Philosophy. Both parents are also involved in the technology field. My mom deals with networking, and my dad with programming solutions. Other than computers I enjoy the outdoors. I like camping, fishing, and hiking. I play soccer for SNC and enjoy watching and playing all types of sports.
Sam Buyarski
I am from Menominee, MI. I am currently a Junior here at St. Norbert College and I am majoring in computer science and minoring in math and Spanish. Besides computers some of my other interests are playing the French Horn and video games. I enjoy biking around town in the summer and spending time with family and friends.
Bryan Previte
I am a senior at SNC, and Iím originally from Waukesha, WI . My current major is Japanese with a minor in computer science. I studied abroad in Japan at Sophia University (Jouchi Daigaku) during the spring semester of 2005 after having learned the language for 2Ĺ years. My hobbies include singing (I was the lead singer of a rock band during my time in Japan and hope to continue that upon my return, and I also participate in various choirs), acting, anime (Japanese animation), sports and games. My dad is the vice president of a phone company, and my mom is a preschool teacher. After college, I plan on teaching English in Japan , and I am currently planning on graduating in the spring of 2006.
---
Main Page